How to Advance My Career and Increase My Earning?
First, determine what your career growth strategy is; it could be any of the following:
Seek a promotion within your company
Find a position that aligns better with your career aspiration
Increase your salary/compensation
Change your career
Find a job that offers better work life balance
Change your current employer
Upgrade your existing qualifications through professional development/training
Or, even take your career into an entirely new direction
Whatever your objective is, don't be afraid to take control over your career and the necessary steps to achieve career success. Although it may be challenging or even difficult for some of you to move out of your current job situation (if unsatisfied) due to a wide range of personal/financial obligations; 2018 is the year to re-think your career growth for a more successful and productive professional life. Once you decide to make a move towards achieving your career goal…all you need is a highly effective resume/CV to generate job interviews.
Call or email me (416.438.3606 / joseph@resumeworldinc.com) to discuss your career goals, resume building and next steps to secure the job you want and advance your career in 2018. Please note that my Office will be closed from December 23rd 2017 to January 6th 2018. I will be happy to discuss your resume needs with you in detail, either before or after the holidays. Have a safe and wonderful holiday season!!!!
Professional Resume Writing
This level of writing service is for those with experience in any profession, industry, or career field, but not necessary at a management or senior management level.  Not getting results with your resume although you have re-worked it again, and again?  Perhaps it is because you haven't effectively articulated your value proposition to potential employers.  Give me a call; I can develop a professional resume that will spur employer interest and generate results for you.
This level of writing service is for individuals in professions such as Engineering, Science & Technology, Health Sciences, Information Technology (IT), Oil and Gas, Mining, Natural/Applied Sciences, Pharmaceutical, Architecture, Drafting, Trades (all occupations), and other technical areas.  Having written thousands of resumes spanning all levels within these career fields for professionals in both the private and public sectors; I can understand and best represent your technical experience and competencies in a manner that stimulates employer interest in you.
Management/Executive Resumes
Are you ready for a career change or a new challenge?  Are you moving up to the C-Suite or in another leadership capacity?  Are looking for an executive level resume that effectively encapsulate your career history and demonstrate the value you can bring to the table?  I can develop the level of resume or professional bio that generates employer interest and produce results for you in alignment with your goal.  Call me to discuss your expertise and objective; the initial consultation is free.
Entry-Level Resume Writing
Start out on the right path to achieving your career goal with a professional resume that best demonstrate your skills, experience and educational training.
Part of your job search strategy should include a persuasive cover letter.  Many positions require a cover letter and a well-articulated letter can make the difference in getting the interview or not. Give me a call for more information on other letter and career document writing.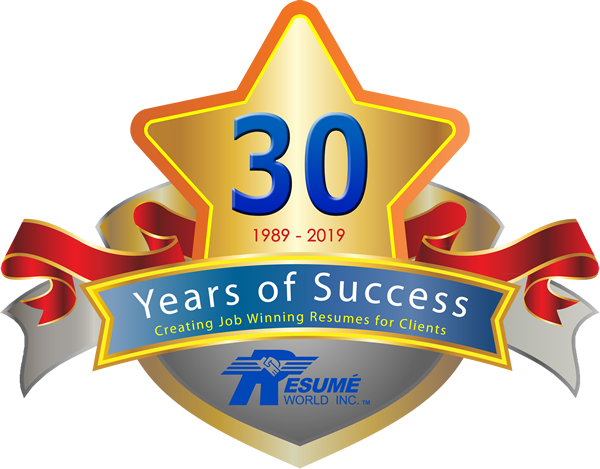 One-on-one Mock Interview Coaching
Applications for Post-Graduate Programs
Applications for Professional Accreditation
Applications for Teacher's College, Law School and Medical School
Applications for Regulatory Certification
Applications for Board Appointments
Business / Company Profiles
Speech Writing for a variety of occasions
I can help you get a better job and advance your career.  Call me or visit

Resume World

for more details on our resume services, fees, process, including job openings at leading companies.